Featured Vacation Rental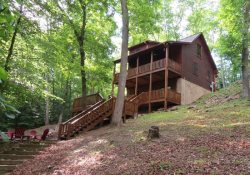 ALPINE LODGE*BEAUTIFUL 3BR/3BA PRIVATE CABIN ON CREEK~WIFI 5G~HOT TUB~FOOSEBALL~GAS GRILL~FIRE PIT~AND GAS LOG FIREPLACE~ONLY $135/NIGHT!
A Hiker's Paradise! Tucked away on 10 private acres, Hiker's cabin shares the land with two additional properties, The Log Cabin and The Timber Cabin. Rent all three for a larger group! All three properties are within walking distance of one another as well as numberous well maintained trails and Tickanetly Creek! The ten private acres are surrounded by National Forest. Bring your ATV's, mountain bikes, horses, etc for a fun packed weekend in the beautiful North Ga mountains!
| | | | | | |
| --- | --- | --- | --- | --- | --- |
| Vacation Rental | Image | Bedrooms | Sleeps | Baths | Starting At |
| THE LOG CABIN*A HIKER`S PARADISE~RUSTIC~1 BEDROOM~1 BATH~SLEEPS 4~WOOD HEAT~2 SAT TV`S (NO DVD PLAYERS)~OUTDOOR GRILL PIT~WALKING DISTANCE TO TIMBER CABIN AND HIKER`S CABIN~CREEK ACCESS~NATIONAL FOREST ACCESS~NUMEROUS HIKING TRAILS~$99 A NIGHT! | | 1 | 4 | 1 | $99.00 |
| NAVAJO- 2BR/2BA CABIN WITH A MOUNTAIN VIEW, SLEEPS 4, INDOOR SUNKEN HOT TUB, CHARCOAL GRILL, PET FRIENDLY, WIFI, WOOD BURNING FIREPLACE, ONLY $99 A NIGHT! | | 2 | 4 | 2 | $99.00 |
| FOREST MOUNTAIN OUTFITTERS*4 WHEEL DRIVE REQUIRED~SECLUDED 2BR W/SLEEPING LOFT~2BA CABIN~HOT TUB~BEAUTIFUL MTN VIEW~PET FRIENDLY~SAT TV~CHARCOAL GRILL~WOODBURNING STOVE~ONLY $99/NIGHT! | | 2 | 6 | 2 | $99.00 |
| ANAMOSA- 2 KING BEDROOMS/ 2 BATHROOMS, INDOOR HOT TUB, GAS LOG FIREPLACE, FIRE PIT, PET FRIENDLY, ONLY $99 A NIGHT! | | 2 | 4 | 2 | $99.00 |
| TALONA- 1BR, 1BA, SLEEPS 4, INDOOR HOT TUB, WOOD BURNING FIREPLACE, PET FRIENDLY, ONLY $99 A NIGHT! | | 1 | 4 | 1 | $99.00 |
| THE TIMBER CABIN*BRING YOUR ATV`S FOR A WEEKEND OF FUN~1 BED/1 BATH~SLEEPS 4~SECLUDED~ACCESS TO HIKING TRAILS~NATIONAL FOREST~WALKING DISTANCE TO THE LOG CABIN AND HIKER`S CABIN~ABUNDANCE OF WILDLIFE~TV`S SAT TV~ONLY $99 A NIGHT! | | 1 | 4 | 1 | $99.00 |
| LA BIATA- 2 BR/2 BA (ADDITIONAL SLEEPING LOFT) MOUNTAIN VIEW, WIFI, GAS LOG FIREPLACE, CABLE TV, HOT TUB, SCREENED PORCH, GAS GRILL! STARTING AT $109/NIGHT! | | 2 | 8 | 2 | $109.00 |
| RISING TROUT LODGE- 2 BEDROOM 2 BATH CABIN ON FIGHTING TOWN CREEK (A TROPHY TROUT STREAM), SLEEPS 10, HOT TUB, WOOD BURNING FIREPLACE, FIRE PIT, PET FRIENDLY, GAME ROOM, WIFI, PET FRIENDLY, $125 A NIGHT! | x | 2 | 10 | 2 | $125.00 |
| RIVERTASTIC!- BEAUTIFUL 3 BEDROOM CABIN WITH NOTTELY RIVER ACCESS AND A BREATHTAKING 3 STATE MOUNTAIN VIEW, SECLUDED ON 7 PRIVATE ACRES,WIFI, HOT TUB, FOOSBALL TABLE, BUMPER POOL, ONLY $150 A NIGHT! | | 3 | 8 | 3 | $150.00 |
| BEARADISE FOUND~3 BEDROOM/2 BATH~ON GRANNY LAKE~BREATHTAKING MOUNTAIN VIEW~FIREPIT~LAKE ACCESS WITH KAYAK~GAS LOG FIREPLACE~CABLE TV~WIFI~GAMEROOM~HOT TUB~GAS GRILL~$175/NIGHT | | 3 | 8 | 2 | $175.00 |
| JORDAN LODGE- BEAUTIFUL 6BR/4BA CABIN WITH DOCK ON BEAR LAKE, BEAUTIFUL MOUNTAIN VIEWS, SLEEPS 18, INDOOR HOT TUB, GAME ROOM WITH POOL TABLE, FOOSE BALL, DARTS AND XBOX, GAS GRILL, WOOD BURNING FIREPLACE, $400 A NIGHT! | | 6 | 20 | 4 | $400.00 |